How to Choose a Surrogacy Agency: 10 Tips for Intended Parents
Once you have decided to become a parent through gestational surrogacy, be sure you're in good hands. The most crucial step in your process, whether planning cross-border surrogacy or undertaking surrogacy in your home city, is selecting a trustworthy and professional surrogacy agency.
The right surrogacy agency will significantly improve the lives of the intended parents. It will play a significant role in your life for many years. Choosing a surrogacy program in which you have complete confidence might be the difference between a professional, pleasurable, and seamless procedure and one that is not only stressful but also time-consuming and unsuccessful.
This article will walk you through the process on how to choose the best surrogacy agency.
#1 − Experience
Pay close attention to successful surrogacy agencies' experiences. The experts at the best surrogacy agency will already be aware of every phase and potential difficulty if they have assisted more intended parents with gestational surrogacy.
You can get advice and assistance from a seasoned surrogacy agency or coordinator navigating the upcoming challenges. They can help you create reasonable goals and show you the bright side and any roadblocks.
#2 − Offered Services
Some surrogacy agencies provide partial benefits, which means they can facilitate the selection of an egg donor or surrogates and intended parents. Still, they don't have the resources to support you throughout your surrogacy journey.
A larger, more established, full-service surrogacy agency can offer more gestational surrogate matching methods to case management and legal services that help make the process much easier and less stressful.
#3 − Reliability & Tru
You should keep an eye out for prospective surrogacy agencies' reputations before selecting one. The trust may be earned over many years, but it can also be lost in a few days.
Never evaluate a chosen agency based on fake negative reviews; many of them are posted by competitors.
Make contact with a few prior, prosperous intended parents. You will benefit much from speaking with a couple who has previously walked the journey you intend to embark on. They will offer sincere endorsements of the products or services, which might give you more faith to choose a surrogacy agency. A competent and caring staff has nothing to conceal.
#4 − Communication
Clear communication is essential for foreign parents and those who select cross-border surrogacy companies, even if you utilize a local agency. Intended parents may gain trust and comfort via effective communication.
Surrogates and intended parents experience intense emotions during pregnancy. Wherever engaging in cross-border surrogacy, it's crucial to stay up to date on how things are progressing or receive frequent information since the vast distances and time zones involved might be nerve-wracking. You'll experience the much-needed serenity from simple, prompt, and regular communication.
#5 – Matching Process
Check with the agency about the selection and screening process to ensure that it suits your requirements. You can rely on an agency you deal with to provide surveys and recruitment forms, arrange phone calls, and promote stakeholder networking if it prioritizes quality searches.
As a result, the agency may begin to identify strong couples and prevent the issues that occur when incompatibility arises. A professional agency should give matching preferences a lot of consideration. They should allow all parties – surrogates and intended parents – to thoroughly review their criteria (personality, expectations, and desired level of communication) before deciding.
#6 − Ethics
However, neither agency licensure nor common ethical standards exist. The client has to learn about the agency's moral standards. How are prospective surrogates and IPs chosen and qualified? Do they participate in ethical or standard organizations, and is their compensation strategy well-defined?
The following links and additional information may be beneficial for anyone considering the surrogacy process or being a surrogate mother:
#7 − Screening Process
When you sign a surrogacy agreement with an intended parent and fertility clinic or choose a surrogate, you rely on them and the expert you pick.
The best surrogacy agencies always conduct a rigorous background check of all intended parents and surrogates (physical and mental health, lifestyle, family support system, financial circumstances, etc.) to ensure they are ready for the difficulties of the surrogacy process. Gestational surrogacy can be legally and emotionally challenging.
#8 − Legal Representation
Each country's surrogacy process and egg donation laws are distinct; some have benevolent regulations, while others openly forbid them. It is a good idea to investigate the legal requirements for your circumstance beforehand. Surrogacy specialists will connect you with a competent legal team or family lawyer in your home country or the location of the surrogate or/and egg donor so that you may make legally sound decisions. Discover the reproductive regulations in your country since they may differ from one nation to another or even within one.
Moreover, gay surrogacy may be permitted in the region of your choice. What if your own country does not approve of the procedure and refuses to provide you citizenship and a passport for your infant baby? Therefore, you should always inquire about offered assistance to aid you correctly.
#9 − Costs & Fees
Request a comprehensive estimate of all expenses related to the procedure and compare them with those of other organizations. Additionally, examine the quality of services offered at each pricing point. The inclusion of admissions, case management, and trust services is optional. Price increases may be necessary to pay for knowledgeable and skilled employees. The typical fee for an agency's services is $15,000, even though the total expense of the surrogacy process is substantially more.
Total costs could also include the surrogate's fees and related charges, legal fees, fertility experts' fees, an egg donor, or adoption-related expenditures if required. Gestational surrogacy can cost between $75,000 and $100,000. The best surrogacy agencies will outline all costs and provide justifications for them.
#10 − Insurance
Most common health insurance policies do not cover surrogacy and egg donation procedures. Ask your insurance company in writing to add your surrogate by name if you believe your coverage includes surrogacy.
Specialized insurance companies offer coverage for assisted reproductive technologies, including cryopreservation, egg donation, and surrogacy, in addition to or in place of traditional insurance. Your process may become more expensive, but you will have insurance coverage and peace of mind. Insurance is a vital cost that may contribute to your gestational carrier in achieving a successful pregnancy and birth. Some organizations work closely with insurance providers, while others point you in the direction of organizations that offer surrogacy insurance.
Why Choose International Fertility Group?
International Fertility Group (IFG) is a worldwide IVF and reputable surrogacy agency that offers a comprehensive range of services for international families. The embryo transfer procedure is thoroughly controlled and supervised by reproductive experts.
We are passionate about finding a surrogate following the intended parents' requirements to ensure that everyone may enjoy the journey and that the child is brought into the world in perfect conditions. Furthermore, multilingual coordinators offer consultations to the patients. IFG provides surrogacy in Ukraine, Albania, Georgia, and Slovakia committed to the highest standards—resulting in countless happy families.
Set Your Mind
Unfortunately, not every agency provides intended parents or surrogates with the same level of support and attention, which can lead to unneeded hassles and responsibilities.
Never select a surrogacy specialist until you are convinced they are an excellent candidate for you. Do your research, read chosen surrogacy agency reviews, and consult with as many doctors as you need before deciding on the agency or professional you will deal with during your surrogacy journey.
IFG can accommodate your family's unique requirements; therefore, contact us if you have any troubles!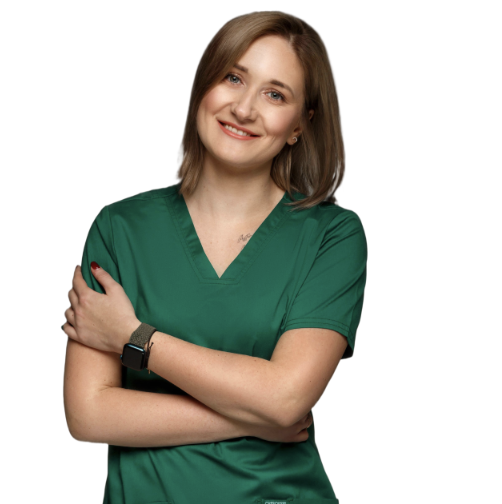 Оbstetrician-gynecologist, reproductive specialist, doctor of ultrasound diagnostics, IVF coordinator.
Share article